I don't usually struggle to invent fictional names, but it took me seven frustrating years to land the title of The Capricorn Sky.
A title is different to making up wiggy names of characters or places. A good title is a distillation of themes, perhaps also of protagonists and it's certainly the book's brand: what readers spot in the shop. Also, a title has to fit, tangentially, with the cover art.
The original title was After the Age of Purity and Virtue. My then agent Martin Shaw correctly pointed out this was "not commercial enough" (i.e. too wanky and longwinded). Would be more appropriate for dear Jane Austen. But then I realised even Jane was a dab hand at one to three word titles – Emma, Persuasion, Mansfield Park – neat and to the point, like the auther herself.
Tragic, I know, but After the Age of Purity and Virtue was a darling I had to kill.
For a year or two, the name became The Wrathful Sky, blowing a literary kiss to King Lear (again, probs too wanky). Then I changed the title to Andaman and Madrigal but the story is not just about the protagonists alone, and it's certainly not a romance – more your revenge tragedy.
In 2019 the guys at Stringybark Publishing were designing and typesetting the first edition, and time was tight. I'd volunteered on a delivery trip of a 44 meter yacht from Vanuatu. My last writerly job for the book, while sailing towards Queensland, was to work out a better title.
The auto-steering was bung so the crew helmed the boat the whole way, day and night. Plenty of thinking time, rolling along with those south-easterly trade winds behind us. I looked up a lot, at the sky, under the Tropic of Capricorn. There was the sky in all its morphs – sharply blue, blazing sunsets, Venus rising in the dark with her silvery tail reflected in the ocean. The sky. What a sky!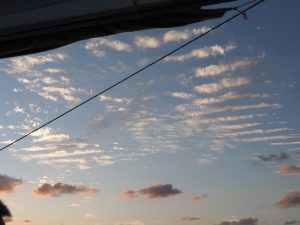 Eventually after enough sky, I had the eureka moment of the bleeding obvious. Why not name Flick's boat, and the novel's title, The Capricorn Sky. Voila! A narrative double bunger, both a promise and a threat.
After all, it's that particular sky and the Coral Sea which together intensify those belter cyclones and thermocells that threaten both Andaman and Madrigal and future Far North Queensland.
The 2nd edition of The Capricorn Sky is now out through the Ingram Sparks publishing system, under the Sooty Publishing imprint. This means the hard copy books are available to order though good bookshops around Oz and the globe. And  virtual copies are still available on the actual virtual.
And talking "actual", I've tagged in a couple of pics of the actual Capricorn sky from that glorious sail, which got me the title – plus some handome red footed boobies found floating in the middle of the mighty Pacific Ocean.